Our approach
At GSI, we take a long-term view on investing. We maintain close relationships with academics and other practitioners, to stay on top of the latest research in financial economics. We then apply these insights to our investment strategy.
We build portfolios sensibly and systematically, investing in small, mid and large cap companies which exhibit key factors such as size, value and profitability. We also consider a company's approach towards environmental, social and corporate governance (ESG) issues. We review ESG ratings of every company we invest in, which informs our investment decision alongside the results of the other factors. Research tells us that companies displaying these factors offer the potential for higher returns over the long-term.
We believe in diversification across markets, stocks and sectors, which helps to reduce downside return risks. By paying more attention to diversification, we are able to design portfolios that have better risk/return profiles than market-weighted indices, which tend to be dominated by large-cap stocks and relatively few sectors.
Integrating ESG
Assessing a company's approach to environmental, social and corporate governance (ESG), helps to inform our systematic investment process.
We have a moral and fiduciary obligation to conduct ESG screening; the Paris Agreement of 2015, signed by global leaders, pledged to keep the increase of global temperatures below 2°C of pre-industrial levels. We can play our part, by investing in companies which prioritise good ESG practice. Given similar levels of risk and return, these companies are also more appealing to investors.
When we research and analyse a company's factor potential, its ESG rating helps to inform our view. Is a company attempting to reduce its impact on the environment? How does it manage its relationships with employees, suppliers and customers, not to mention the community within which it operates? How is the company led, how are executives paid, and is the business well-audited?
We look at a company's ESG rating alongside other factors like value, profitability and size. This holistic approach allows us to choose sustainable assets with the highest return potential for our investors.
Long term changes in global temperature.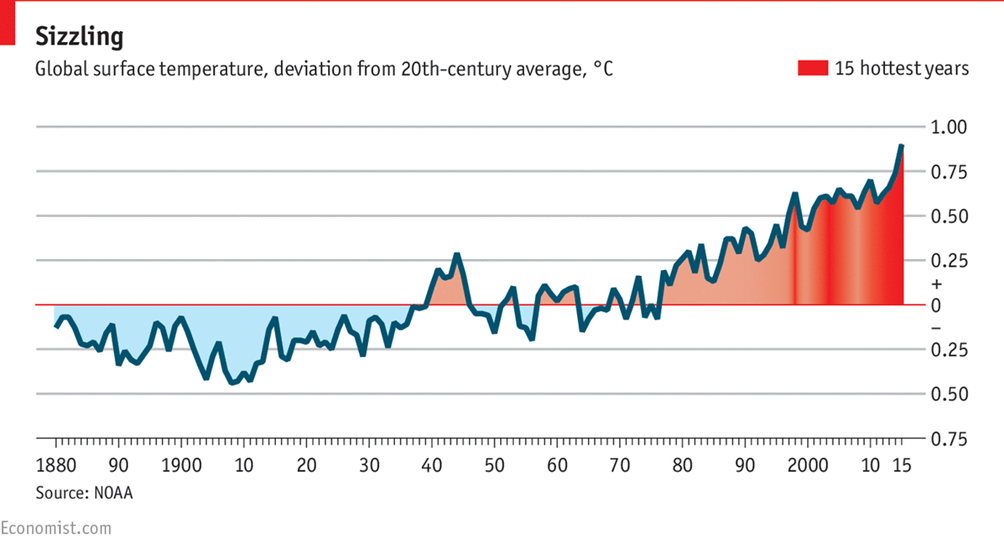 "Climate change increasingly poses one of the biggest long-term threats to investments."
Christiana Figueres, Secretary of the United Nations Framework Convention on Climate Change (UNFCCC) 2010-2016.